Featured books by
Blue Sleighty and Sage Sweetwater

Dominga Rio of Cuero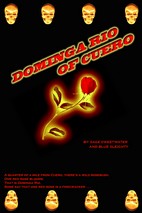 Blue Sleighty and Sage Sweetwater bring you a new and exciting western novel (lesbian style!), Dominga Rio of Cuero! Prospective release- early 2009! (but we could get lucky)

Dominga Rio of Cuero is a modern day western, lesbian style! Set in a remote part of Texas that is still as wild as the west ever was, this story is a perfect illustration of the fact that no matter how things change- they always remain the same.

Action packed, intelligently researched, and cleverly and beautifully written, Blue and Sage bring you the fruit of over two years of blood, sweat and tears.

Exciting, and sensual. I hope you enjoy Dominga Rio of Cuero!

Cover by Blue Sleighty




Excerpt
When the mood hits her, (and, today, it DID) she fires off an anvil and sends it flying in the air! She puts a coil of "feminist fuse" (that being horsehair braided around newspaper, on TOP of the anvil), adds a pile of gunpowder, tops it off with another anvil, and strikes a match.
It is 3 a.m., still dark outside, and fucking BOOM!
Books by Blue Sleighty
My Secret Obsession Erotic Lesbian Stories I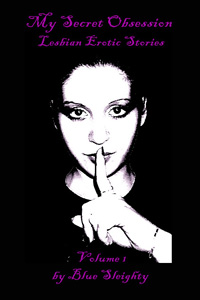 Cover by Blue Sleighty
My Secret Obsession Lesbian Erotic Stories, volume 1 Experience the life and loves of Blue Sleighty. Visit Blue's erotic realm, through these ten delicious tales of excitement and adventure within Blue's world of lesbian sexual pleasure. Break ups! Make ups! Travel! Adventure! Good guys and bad guys! Lots of fun. Blue shares her sexual experiences from a very matter of fact and honest point of view, and with an edge of humor. Guaranteed to turn you on!
My Secret Obsession Erotic Lesbian Stories, Volume 1

My Secret Obsession Erotic Lesbian Stories II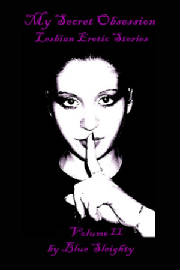 Cover by Blue Sleighty
More wild true tales, by Blue Sleighty! Your old friends from Volume I, still kicking it up in Volume II! Catch the exciting conclusion of the story of Bette and Blue from 'The Blues Singer', in "The Disappearance"! Enjoy another sexy encounter from Joie and Blue in "The Dull Surprise"! Find out what happens, after Bette, for Blue in "My Liza"! See what happens, when Blue tries to 'go corporate' in, "Love Takes a Business Trip"! And, more terror from 'Ricki the cop' for Blue and Lisa, from 'The Personal Ad', in "Running Through The Hills"! New! Bad poetry from Blue's Broken Heart! Sexy, lesbian erotica with a plot, and good humor, from Blue Sleighty!
"Road Kill Heart" by Blue Sleighty, coming in January 2009
Buckskin Skirt Oar Traveler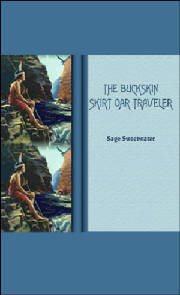 THE BUCKSKIN SKIRT OAR TRAVELER is a feminist and lesbian story told of a smart mix of primitive times and modern-day culture, giving us a linkage of how and why we perform womanly tasks the way we do to include the primitive lesbian mating call, which at its best is told through the wild cry of the loon.
The canoe and the trade scene go as far back as time itself. Everything today is tied to ancient times. Sugarbush and the tapping of maple trees to derive the sap to make maple syrup is a sweet, ancient wisdom that has been passed down and flowed over into the modern-day collection of sap to boil into maple syrup.
THE BUCKSKIN SKIRT OAR TRAVELER
FROM THE CONVENT TO THE RAWHIDE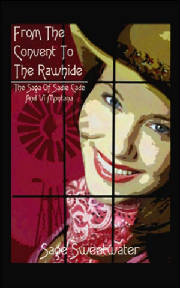 THE SAGA OF SADIE CADE AND VI MONTANA
Set in St. George, Utah and Clovis, New Mexico, FROM THE CONVENT TO THE RAWHIDE: THE SAGA OF SADIE CADE AND VI MONTANA is a modern-day feminist/lesbian western where sex and religion ride together.

Mercedes Cade is on a mission, serving 18 months at the Pish Convent in St. George, Utah as a Mormon missionary, coming to Zion, the promised land, to reunite with the church she was raised in, to find her place in life by the time she is 40.

She is partnered up with Violet Mace-Reese, a rebel politician from Montana who is fed up with unwashed politicians and has come to ask God for direction, perhaps her political career having played itself out when she walked a labyrinth on the lawn of Capitol Hill in Washington D.C. set up to encourage politicians to find inner peace so we can find world peace.

Mercedes Cade and Violet Mace-Reese partner up after serving out their respective missions. They run a mid-size leather ranch and build furniture in Clovis, New Mexico with top-of-the-line gene pool, the cows bred for their perfect hides, showing no scars. They are not branded or fenced by barbed wire, analogous perhaps in search of the perfection of humans and simpler life. The natural grains of their unflawed hides are highly valuable to leather furniture consumers paying for the best leather, perfection, and coddled lifestyle of the cow.

From atop a ridgeline looking down into a quarry where the original Clovis people made their prized spearheads, Vi and Sadie convert from Mormonism to Australian Dreamtime, being that the Mormon religion is just too structured of an environment for the personalities of these two women to live by.

From The Convent To The Rawhide: The Saga Of Sadie Cade And Vi Montana
BLUE CORN WOMAN is a lesbian novel that cries for the blind raven, a story of handicap, abandonment, and revival.BLUE CORN WOMAN animates the desert lesbians in the rugged Superstition Mountains of Arizona where the character of Blue Corn Woman operates her trading post to feed her and her two wolf-dogs, Peyote Two Buttons and Kachina Four Corners.Played out in a seductive game of Desert Monopoly with life-size tokens of affection, Blue Corn Woman must pay attention to their contents to understand her journey. She has a one-night stand with a mysterious Latino woman named Valentina Harmony posing as a sassy cowgirl. Valentina rides off at sunset with her secrets tucked under her saddle. It spurs Blue Corn Woman to search for Ms. Harmony.Blue Corn Woman adopts a half-breed Navajo/Mexican orphan boy with fetal alcohol syndrome after she heals him from being lashed by the local gang.BLUE CORN WOMAN is carved feminist/lesbian spirituality, a Kachina doll symbolizing two women who choose to share one blanket through life on a journey of reviving a pottery hermitage started in the 1960s by Ms. Harmony's grandmother, a homeless gyspy woman.Women have begun showing up to work the clay. The retirement-age group of women can't live on their social security benefits, so they are looking for ways to supplement their income. At Mother Clay, her earning power depends on her mood. Nothing is regimented and there are no time clocks to punch. The clay days are based on the old calendar.
Blue Corn Woman